Fly Guys Inc.
Bio written by Rhonesha Byng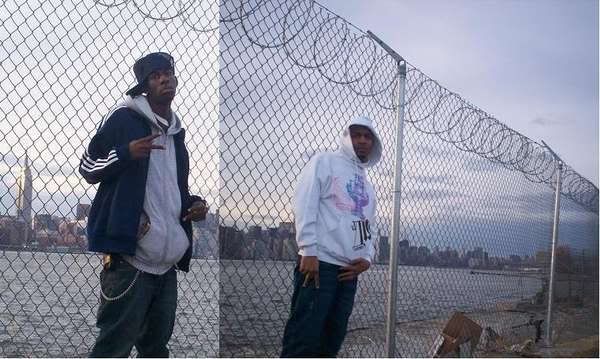 Straight from the hard core streets of downtown Brooklyn, where violence and crime and drugs are prevalent, a pair came together to ultimately make their mark on the hip hop game, extending beyond that image.
Fly Guys Inc. is the product of two talented emcees. Their catchy lyrics and innovative sound brings forth a breath of fresh air to hip hop. Their motivation is simply "the hustle of life."
FGI, made up of Kid Playboy and Neo, best friends since the age of 12, have a natural bond extending beyond their music and effectively shining through their music. The duo first met in gym class of junior high school, and has never parted since. With their common interest in music and strong determination these two inventive emcees have come together to form Fly Guys Inc.
Fly Guys Inc. of course reflects the superb style of Playboy and Neo, but the name extends further than that.
"Fly like being ambitious, there's no limit…sky's the limit," said 20 year-old Neo.
With songs like "A Night in the Life" and "All Out", which are about just enjoying life and everything about it, are something you can just sit in your car and rock out to, leaving you feeling good.
"I ain't no loud gangsta, but listen I got money. I'm doin' me, I'm enjoying myself, how about you?" commented 20 year-old Kid Playboy of their more realistic and laid back approach.
Growing up in the ghettos of Brooklyn these two have undergone the typical hardships of growing up young and black. Playboy sees life in the hood in cycles. The last cycle is the hustling stage which is the stage where you either get locked into it again by having kids or you make your way out.
"I'm tryna make it out," says Kid Playboy.
Grabbing inspiration from everyday life, outside of the hustling, drugs, and bang em up type "life" heard constantly in today's rap songs, FGI makes songs about hanging out, girls and real stuff with a touch of charisma and flair to keep you interested and wanting more.
Neo, born Cory Haynes, is the pusher of the group serving as the ever glowing hope and support of the FGI movement. His laidback demeanor and introverted traits all disappears once he is in front of a mic with a good beat playing in the background.
"I'm the one," boasted Neo. "Either it all happens or it doesn't happen because of me. I was given a gift and I have to use it, just like the nigga from the movie, hence the name. Nobody can do it quite like me."
Kid Playboy, born James Sykes, has gone through his rebellious periods as a young person trying to make it out of the hood. Hustling, and working while pursuing his ultimate goal: making music. Through this, has emerged a confident, funny, outspoken individual that is Kid Playboy. Who of course, which goes without saying, is loved by the ladies.
The feedback this duo is receiving from potential fans is overwhelming. Playboy notes it's almost like a movement.
Previously FGI had been approached by a major label for a deal but, are so steadfast and true to what they are about, turned it down at the proposal that they change their image.
"We're not trying to be a gimmick and sell ourselves with anything other than what we are, we keeping it real with ourselves."
FGI is what the public needs, and they are just waiting for the music executives to finally realize what they and everyone else who have heard them knew all along. FGI is surely to be a household name and a radio favorite, working to revive the staleness that's transparent in hip hop's music of today.
"The radio is nothing but trash right now anyway," noted Neo. "So…why not? It's my time, it's our time."