Feature Story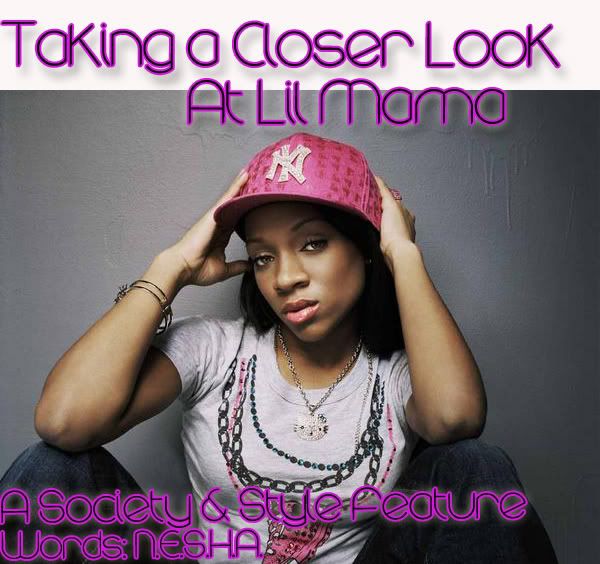 W
atching Lil Mama, her mannerisms and the way she speaks reflect the true character of Niatia Kirkland, a girl from Brooklyn. Her hood aura has not left her and she is unapologetic about it. She's not afraid to speak her mind, even when it's against her own label, and she does not care what people think of her. One might think these are traits gained with accumulation of money and fame or from becoming a celebrity, but she was always this way even in high school. There were days she came to school with her hair half wrapped and in sweat pants but she still walked down the hall singing, and calling attention to herself as if she had on the best outfit in the room. Her talent is what makes her shine and she knows it. But most of the general audience doesn't seem to know the true bounties of her talent yet, and with 2 years in the industry that is not a good thing.
"I'm working, I got some stuff coming out this year for sure. Definitely check out Lil Mama Diva on YouTube. You can go on MySpace to check out the "Diva" record which is my first single off my album and I also have the battle Wednesday special I am putting out this week. So look out for that. I'm focused I'm doing my thing Rhonesha I ain't going to ever stop. I see myself as being one of the biggest stars in the universe because of my heart and my talent."
She's creeping back into the music scene, with not quite as much of the hype or attention of her first debut. But she has released her official first single from her debut album, which has yet to get a release date.
She says she has a lot planned but she wants to wait until her projects are released before she speaks on them since "actions speak louder than words." With the buzz and heavy anticipation of her last project and its less than spectacular performance, one cannot blame her for not wanting to speak too soon. Two years into her career as a professional artist she's learned when to speak and when to hold her tongue.
"I've learned how to use the things that I've learned from my parents and my community in my work field. I've grown," said Lil Mama in a phone interview.
Still, many doubt her skills beyond the ability to make her lip gloss pop. The debut single of this young emcee placed the now sophomore artist into a bit of a pigeonhole. Her single, "Lip Gloss" was the first single from her major debut album on Jive Records entitled "Voice of the Young People." The single was heard everywhere, while the album sold just under 19,000 debuting at the 25th slot in its first week. With the amount of buzz and rotation of her initial single the attainment of loads of dedicated fans and the support of a major label, one would think that would be the formula for success. But apparently there were things at work behind the scenes that the public was unaware of.
She was disappointed with the performance of her first album placing the blame on the lack of marketing by her label. She was quoted as saying that she was shocked when fans would come up to her asking when the album was coming out after it had already been released. She hopes that with her next release there is some improvement in the promotion of her album.
"We'll have to see. I'm an honest person and I'm always going to be honest. So we'll just have to see what's good with that. It be what it be though."
Personally, I have seen Lil Mama's talent, unfiltered, un-commercialized and there is a reason she's signed. Her rap skills, vocal gifts and dancing abilities are all superb and come as natural as breathing to her. But, in essence, her debut album did not reflect the talent Niatia Kirkland has. And thus, lack of marketing, combined with lack of creative freedom, or full use of her talents resulted in a not so illustrious debut.
When asked whether she believed her full talents were expressed on her debut album she responded: "No, not fully. It was like a little bit here. It was like 50 percent here 20 percent there 30 percent there as opposed to giving a complete show. And now I'm definitely reflecting on that and I'm bringing it."
Despite all of the drama and politics behind the scenes, Lil Mama continued to maintain a positive front and even took on television projects such as taking on the role of a judge on America's Best Dance Crew. Even when everything might be getting to her she realizes that she must always put her best foot forward, for her fans.
"I learned how to be a people person even when your back is against the wall. Because as a celebrity sometimes people can say you're bougie or you're a diva or you're over the top. Then sometimes people can say that you're very nice or your beautiful, but what I've realized is that whether it's a good thing or a bad thing people are going to say something either way. So you gotta do you, you gotta be you. People look for something to say in their experience with working with you, or meeting you. They look for a story to take home to their family because they have encountered an experience with a celebrity. It's always a story they need to take home, so I had to learn how to maintain who I am in the midst of whatever is going on with anybody else."
She keeps close friends and family around her all the time. "And I think what makes me the way I am is coming home and being around everything I come from because if I lose everything that I own today whether it's the media loving me or my money or whatever ill end up right back where I came from. So you have to just ground yourself to understand that if any situation you have to be able to move around and maneuver and show a love that would be what it is under any circumstances."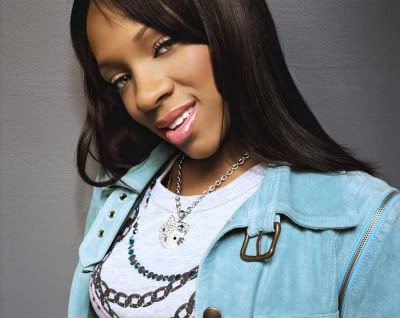 These days, you don't hear much about Lil Mama's music. Instead many focus on her comments as a judge on MTV's Amercia's Next Best Dance Crew, or something about the choice of her outfit. Last season, many were shocked and confused when she cried giving feedback to RingMasters, the dance crew that originates from Brooklyn, her hometown.
"I wasn't acting. I was definitely surprised to see them there, and happy for them. Just to see somebody from our community that's as young as we are doing things on their own. Its not like I brought them on to the show," said Mama.
She understands that its not easy to attain forms of positive success when you come from a rough environment. Ringmasters are known in Brooklyn as Main Event, one of the many dance crews that participate in a weekly dance showcase called Flex in Brooklyn that airs on BCAT, the local broadcast network. No one would have ever expected that they would be able to make it from that stage to the national stage and even though they didn't win, they are in a better place. They took a chance and followed their heart without knowing the outcome. Mama deeply connects with that.
"I think that it's incredible because it takes dedication for us to focus on something and go hard with it. It takes courage and it takes confidence. For someone to go hard with something that shows that they believe in that project whether its dance, whether its artistry, whether its building websites or blogging or whatever it might be that drive that we have comes from what we love and our confidence in ourselves. I think that that's amazing because it starts in the heart."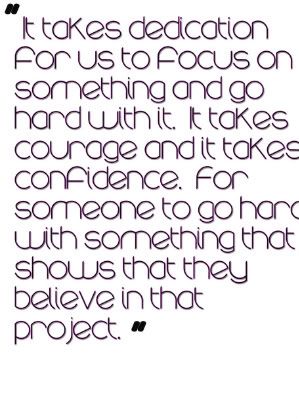 But passion and talent is not enough. Many young people come from environments where they do not see people taking chances beyond the transactions on the corner, or pushing cd's on 42nd street. The 'why even bother' mentality creeps in and effects their ability to take a chance. Doubt can sometimes be the killer of dreams. Lil Mama had many reasons to doubt her ability to become successful. With a mother diagnosed with cancer, and living in a household with seven siblings the odds were stacked against her. She was just another face in the crowd, in the sea of young people trying to make it as an artist. But something made her stand above the rest.
"To tell you the truth I had to stay focused and stay strong and stay positive about my situation and about life period. As you know, I've always been who I am and even when people didn't believe in that or didn't see my dream or didn't see where I saw I was going. I still stayed focused and stayed on my path. You are one of the first hand witnesses of that."
If you speak to Lil Mama she might say something off the wall or something you might not expect but its because she is brutally honest. That honesty speaks volumes because she is able to pass on unfiltered wisdom. She knows that despite the drama, and politics of the music industry young people still look up to her and so she made it a priority to go into local communities and speak to as many young people as possible.
"I was inspired to do that because of where I'm from. When people used to come and speak to us at our program and we didn't really have any financial backing they would still come and show us love and show us how they got to where they are–whether they were entertainers or doctors lawyers or whatever. And I feel like its my place to do that, give that back to the children that are coming up of my generation and of the new generation to come. It just means a lot to me. That's just been the type of person that I am even back in school days just sitting down talking to everybody about my vision and the better things in life, and now I get to tell the whole world and they're listening."
And so, while most of the media focuses on her sense of style, her outfit choices and what they feel is a less than spectacular performance overall, Mama is extremely grateful to be in the position she's in. One of her biggest moments of her career was the night she received the most criticism for wearing a baby doll outfit. Complete with a pacifier it was all the blogs could talk about. But all that talk didn't faze her. Looking back on that moment she said it was one of the best in her career thus far.
"One of the biggest moments in my life was when I attended the VMA's. For the media, for the press, it was that I wore a baby doll outfit that they compared to Little Bo Peep. But that was my first year in the game and I was nominated for a VMA for best single of the year. I attended the award show with my mother who was battling with cancer at the time and is now deceased. She got a chance to see her dream come true through her daughter. She got a chance to see it come to life, and I think that was a very spiritual emotional moment for me and it was beautiful, even though I didn't win the award I won that moment."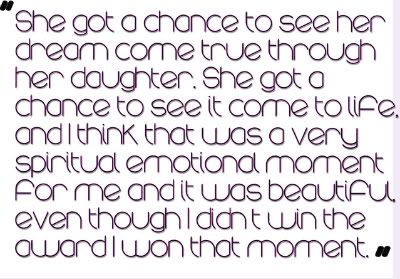 Despite the critics she plans to stay focused and not allow the negativity effect her growth as an artist.
"If I folded to the media and folded to the press and basically got weak and gave them what they wanted all the time then who would I be? What would make me any different? I would look just like everybody else. If you look at a magazine and flip through the pages you probably couldn't really tell who's who or what's what if it didn't have a name underneath it. When the makeup is on and the hair is on and two women have the same style, they are going to look exactly the same. There's nothing unique about wearing the same old same old, made up all the time, it doesn't describe who you are, only you can do that. I'm just a free person I don't care what nobody says if I like it I like it. I love stones I'm going to wear it in my little colors and anything else that I want to do in life, I'm going to do it because this is mine not nobody else's."