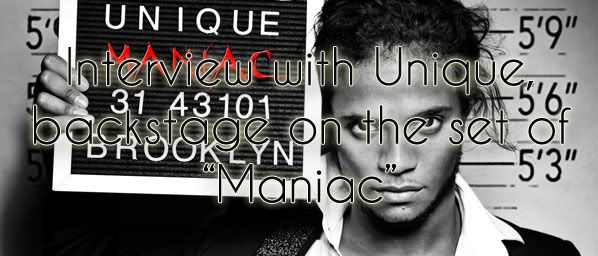 From the projects of BedStuy, to school talent shows, to major arena tours and now a chart topping album in Japan, Unique's journey is truly that–unique. Generating a buzz performing for major artists including Ciara and Chris Brown before inking a major deal, R&B recording artist Unique Zayas felt his hard work was solidified once he sealed a deal with Def Jam records. After signing with the label, as time went by without an official single or album in the works, Unique and his team decided to part ways with Def Jam and launch independently. Thus far, he's encountered enormous success in Japan, and his single Maniac is building momentum in the U.S.

SocietyandStyle.com: On set with Unique Zayas [interview] from SocietyandStyle.com on Vimeo.
SocietyandStyle.com stopped by Unique's video set to chat with him about the highs and lows of his career and his future plans. Throughout it all, he's an example of the many obstacles that come for those on the pursuit of a career in entertainment: "Its good that people see the grind so they know it's hard work, everything is not a fairy tale." Check out the video and the entire interview when you "read more."
How do you feel now that your official first single is out?
Honestly, I am filled with so many emotions. I feel like a kid on the first day of school–excited to go but nervous to step out into your new class. For so long people have heard music from me via MySpace, YouTube and those random sites that leak your music, but now you can purchase my single "Maniac" on iTunes and I just shot my first official music video for it. It's an accomplishment.
I know that you wrote the song, but who worked on the song with you?
Well, I worked on the song with a few dope people on the team. Ty-Deals produced the track, John John & Johnny Black brought the edge to it with the guitars and heavy drums. I wrote the song with writer August Rush.


Is it based on a semi true experience?
Um, yea but I'm not saying any names. (laughs). With all my music I try to incorporate some truth to it and of course I've dealt with a maniac or two in the past. I think everyone has.
You released an album in Japan before the U.S.– why Japan? Will this album also be released in the US or will your American album be completely different?
Why Japan? Why not Japan! It's a city I've dreamed of visiting. I got the opportunity to do an album out there and I jumped on it! So far it's been amazing. I have the #1 record on their iTunes R&B charts for 3 weeks running for my duet "Wherever You Are" featuring international artist Charis and got the chance to executive produce my whole album entitled "From Brooklyn To You." The albums are going to be different in production but the flue to it is my heart. It's in everything I do.

You've been singing since you were 5, and you've been pursuing a professional career since you were in high school. Was it difficult to go off the beaten path when you were first starting out as a professional singer?
Indeed. I wouldn't say following your dream is the easiest path to take but I've always known from a young age what I wanted to do. I always tell people I'd rather struggle doing what I love than taking the safe path and living with regret.
Upon graduating from high school you were signed to Def Jam records, how did getting signed to a major label effect your career?
Well before getting signed I was out and about opening on tours for Ciara, Chris Brown and many other artists who had major record deals just building my fan base. Getting signed was a big deal for me–definitely a dream come true! It was like my grinding paid off and it was time to take it to the next level. I'd say being signed opened my eyes to this thing called "the music business." It ain't all about making music and going to fancy parties. There's politics and a bunch of things the public doesn't get to see or understand. Overall being signed forced me to grow up fast and take things into my own hands more than I had been doing before.
You're now releasing your music on your own independent label, Star Power Media, and recently announced that you are no longer with Def Jam, can you explain what happened? Was it your choice to leave?
Yes, I am releasing music under my own label and it feels hella good. Def Jam just didn't work out for me, but everything for a reason. I'm now able to have more creative control and present myself to the world as Unique. Leaving was sort of a mutual agreement. I could have stayed and been 40 years old waiting to be released or venture out on my own and continue to grind.
You have a legion of fans who have been following your career for years without even having released an album, how have you been able to build such a dedicated fan base?
It's surreal to me. I'm a fan of many artist so to have my own is amazing. I think why my "dreamers" have been so loyal to me is because they're ab;e to watch me, front row and center. Through my years of grinding, to getting signed and it not working out and continuing the journey. I try to make it all relatable to them by being honest and loyal to them. I'm so grateful for the love back.
How will you approach your career differently now that you are an independent artist?
I will continue to set the standard high for quality in my music and in building my brand and company. I wouldn't necessarily do things different we'd just be taking it up some notches.
What projects do you have lined up for 2011?
Well, I should be visiting Japan soon. And of course, continuing to work on my U.D. release, performing and things of that nature. I'm giving everyday my all and letting God lead the way. I think it'll be a good year.
For more on Unique and to follow his journey check him out on the following sites:
www.iamuniquezayas.com
twitter.com/iamuniquezayas
youtube.com/uniquestarpower
myspace.com/uniquestarpower
The video debuts in just a few days. But in the meantime check out the sneak peak: